WHAT ARE PEOPLE SAYING ABOUT US???
WE HAVE HAD SO MANY COMMENTS AND REVIEW GIVEN ON FACEBOOK
AND THEN OF COURSE WHEN SOMEONE DOES GREAT FACEBOOK
SHUTS THEM DOWN SO I FOUND A WAY TO SHARE THEM
ON OUR WEBSITE!
OUR NEW FACEBOOK PAGE IS: GRACELAND ENGLISH BULLDOGS
PLEASE CHECK US OUT ON FACEBOOK!
THIS IS AN ARTICAL SHOWING THAT
WE ARE THE #4 RECOMMENDED
BULLDOG BREEDER IN THE STATE OF MISSOURI







Hey Diana,

Just wanted to send in an update on my baby boy Pries! [Preez] He is now 2 years and 5 months old and is the main character in our house. He loves naps, his toys, & bath time! I haven't had any issues with him at all. He is so full of personality, and he has been the best thing to ever happen to my family. Thank you so much again!

-Barnett family - 2023



Diana, I just wanted to tell you how much I love Squishy. He is such an amazing guy. He loves to love people. He is a working guy. Signals when someone is passing, loves them and comforts them in their greatest time of need.

He is a lover and my best friend!!

You were so amazing when I bought him and you personally delivered him to me!! Thank you sooooo very much!

MAY 2022




Greetings from Philadelphia

Just an update

You brought this beautiful girl to me last august

And she just celebrated her birthday on May 10

She truly is the sweetest dog in the world

My life is so much better with her in it -

She is my world

Best,

Jennifer & Cali Sky

May 2022




Hi Diana!

Just wanted to send you an update on Levi! He's now 15 months old and such a great balance of energy and snuggler. He is a little shadow and loves being next to us all the time and we wouldn't have it any other way! He fits so perfectly with our little family and couldn't imagine it without him.

Thank you again!

Lindsey Collins

1/30/22





Hi Diane,

Through the mess of the pandemic I've been delayed on sending you an update, thus this is well overdue.

I cannot express to you how much this dog means to me. He is my WORLD! He is so smart, so funny, and such a show stopper. I renamed him Paco Amor but I affectionately call him "Dutty" and he answers to both!, lol. He is more than what I imagined he'd be and he has truly become a part of our family. He has so much personality and has given me the new title of "Dog Mom" that I brag about every chance that I can. He is my forever fur baby and loves his momma to pieces.

Stay Healthy!

Best,

NIKKISHA

JAN 2022



Hey Diana, I just wanted to let you know that Faith and I are so happy with our little girl Hamiltyne. We just got the change to spend a first Christmas with he, after getting her in January of 2021. She's growing up to be such a beautiful girl!!!! Happy new year, and we hope you had a wonderful holiday season.

I also paid for the Embarkvet pet DNA testing and her health is spectacular. She has zero predisposition for disease that are common in bulldogs. So, take pride in the amazing puppies you have bred, my vet has also told me to thank you for the amazing care you are taking throughout the entire process. Hamiltyne is the healthiest bulldog my vet has ever had the chance to care for.

Happy new year to you and your family!

Ryan & Faith
Jan 5, 2022
Diana

I can't thank you enough for this beautiful, sweet puppy. He is a joy. He was shy the first day or so, now he follows me all over the house, and plays with the other dogs. I am afraid he is getting spoiled already, as he does not like a crate, and has been sleeping in a puppy bed by my bed.

I was very impressed with your puppy package. How do you purchase those AKC puppy protection packages? I might be interested in doing that with the puppies I sell.

It is so nice to get a puppy from such a diligent breeder. I appreciate the obviously good care he received. And what was the spray you had on him, he is the best smelling little puppy I ever received.

We have our vet check next Tuesday, but i can tell he is just fine.

I have been calling him Casey, and I will email you with the full name soon. I am still working on the long name.

Casey Joe B. Wilcutt. Feel free to share my email on your website and use me for any reference that you would like

Thanks again. I hope to get another puppy from you in the future.

JAN, 2021
We just wanted to send you a little update on our sweet Wrigley (Olive). At 5 months, she has become the queen of the house. She is healthy, smart, sassy, and the ultimate boss. It's hard to imagine our lives before adding her to the family.

Have a wonderful holiday-

Beth

12/2020
TO: Gracelandkennel




She is a real affectionate EB. She hasn't met a stranger yet. No physical problems thank God. I always recommend you when asked where I got her from

JB 11/2020
Hi Dianna ..Zara has all her shots now and will be getting spayed on Sept. 14th and doing bloodwork for health. She is wonderful and everybody comments on how pretty she is and her perfect loveable personality..I tell everyone about you and suggest they buy from you. Thankyou...

8/28/2020
Dear Diana,

We can't thank you enough for Mocha who we picked up from you 7/11/20, who is the 2nd English Bulldog we purchased from you.

Harley, our first Bulldog 3/2012 was such an amazing dog we knew we would only return to you for Bulldogs!

Thank you for doing such a great job breeding and raising such amazing family friendly puppies.

Love the Rowe Family





Howdy!

Just letting you know how much we love our Bella!!! She is my little shadow, follows me everywhere! She is so protective of me, it's sweet. So loves her toys, course she leaves them all over the place lol. We'd be lost without her. Thanks again♡♡♡♡ The P

8/2020
Good Morning. I just wanted to thank you for our wonderful Frenchie. He is such a joy and loves to snuggle his personality is out of this world and he loves all the attention he gets from my grandkids. He has definitely became my mother's best friend and I couldn't ask for anything else. You will be hearing from me soon...he needs a sister.

2019



Morning Diane,

I just wanted to send you some updated photos of our fabulous Girl!!!
Schatzi is gorgeous, amazing and a true little angel sent from heaven.
You Guys are the BEST!!!!

She's the best!!!! We love her so much!!
Thank you again for doing what you do.

8/28/2020
Just thought I would share a picture of our pup!! We love him so much and he's sweetest
Thanks again Tim and Camille M
AUG 2018
Hi there! Just wanted to let you know how much we are loving Frankie (previously Frannie). She is just the sweetest and everyone loves her. Her personality is adorable! And she's still pretty tiny. At just about 9 months she is 23lb which we are loving.




JULY 2018
Hello Diana,

Today is a week we got our little girl. She has been a bundle of fun. I think the name we decided on is Gracie Kiley Baker. She has been such a great puppy I cannot say thank you enough.

Best Wishes,

Todd B

P.S. she was sleeping in this photo after playing so hard lol

JULY 2018
Hello, this is Gus and Diane P "Thor" is doing great, almost a year now. Great health and super active. Thank you for a great family member.

Diane P
2018
Good morning Diana. This is Sean M. in St. Louis. Sorry it took me alittle bit to text u.

We have come up with a name for the AKC register and the micro chip.his full name

will be Seamus Chester M. I took him to the vet for first visit and they complimented

u very much in saying he was very well taken care of. He is a great

tempered guy with flashes of a non listening toddler. Thanks again

for filling the hole in our family's heart.

SEPT 2018
I thought I would update you on Ryder. He is the best dog. I take him everywhere I am allowed. Unfortunately I haven't been to a show yet since every show close and conflicted with my children's showing 4-H animals. I am hoping after state fair that I will finally be able to take him to some shows. Here are a few pictures of him. I would love to be put on a waiting list for a female that isn't closely related to him. I prefer a red merle or blue merle. I also would like one that would get to 13" at least.

Thanks so much for breeding such wonderful dogs.

Heather Perkins

JULY 2019
Diana,

I just wanted to send you an update on Nate. We brought him home in November 2018, his birthday is July 17! He has brought so much joy and love to our home. He is very well behaved and is loved by all 6 in our family. He is so playful and funny. He doesn't like the bath tub but loves the kids swimming pool! Our vet always comments on how well bred he is and how much she loves his stature. I'm attaching a few pictures.

Thanks

Melissa

JULY 2019
We wanted to reach out to you to let you know about "Boss", now Sir Harlan to us, is doing.

He now over 50 lbs, and is a wonderful addition to the family.

He has an awesome temperament. SUPER chill, but loves to play.

We have had a great experience! Thank you! #sirharlan

Best,

Tim and Gina

OCT 2018
Diana, Oscar has really taken to myself and our youngest. He has personality for days and has provided endless smiles. Also, he is very smart and almost human like. Hard to explain. Sidenote, every where he goes, he is the center of attention! Anyway, awesome addition to our family! Thanks again!

SEPT 2018
| | |
| --- | --- |
| | Diana just wanted to send you an update on Tank "Drew" . He's been an absolute blessing to our family! He loves all three of our boys and boy do they love him. He is absolutely spoiled rotten!!! He loves the air conditioning vents lol he lays on them all the time. He's very well behaved and is such an absolute sweet heart. Thanks so much for blessing us with him!!! Here is a picture of him from last night and boy is he a big boy!!! JULY 2019 |
| | |
| --- | --- |
| | Aurora is almost 5 months now she just got fixed and is back home. She loves it here and we love her. The vet says she is one of the healthiest Bulldogs she has seen. She currently weighs about 24 pounds. Again thank you for a healthy dog and I will refer anyone I know to you if they want a bulldog. JULY 2019 |
Good Afternoon Diana,

I hope all is well. We wanted to touch base to share with you that Royce has been an absolute joy and has changed our lives for the better. He is 9 months now and has an amazing personality and temperament. Thank you again for answering all of our questions and helping us to feel comfortable throughout the transaction. We know that we made the right choice.

Here's a pic of our little/big guy in his bed (that he frequently turns sideways 😊).

Thanks,

Miguel

FEB 2019
| | |
| --- | --- |
| | I just wanted to send you a note about Marge, the cutest French Bulldog ever! We picked her up Memorial Day weekend. Our family has completely fallen head over heals for this baby girl. We have been big dog people for a while but now can't picture ever getting anything other than a Frenchie! She is healthy, happy and a huge part of our family. Thank you, Jill K AUG 2018 |
Good Morning,

It's almost Butchies birthday, and I wanted to update you on him.


He is doing well and he's such a happy, obedient dog. He's my


best friend and never leaves my side. He is loving NYC and


everyone loves him.


Thank you so much.

Jan 2019
Diana! Hello,
I don't know if you remember or not but my girlfriend and I bought
Walter (Dallas) from you Oct. 3rd. (Pics attached:)) and literally
count'n't be happier.
He has an amazing temperment with other dogs, kids, and people in
general. Truly just wants attention and love, which we love more than
anything as we have so much to give, he is spoiled in attention haha. An
absolutely lovable pup and very well trainable pup.

So! My sister(and anyone interested in a bully) I send your way. The
vets rave about the care and perfect stature of the dogs hips and front legs
and how great the dogs are cared for. Our vet is a family friend and truly
raves about how well of a job you do with these bullies! I believe, Natalie,
my sister, sent you an email already inquiring about him. We would love to see
him and also if I can bring Walter out to revisit his family while we look at Boss,
if at all applicable. He's such a sweet boy. Our family is addicted!

I hope your new year went well and everything is going great! Give me a call if
you have any questions. I plan to bring my mother as well and who knows
what will happen when she sees these sweet pups.
Hope all is well! Blake A and Lexis W

January 2019





Hello! I just wanted to send you a email about our Tinker. Its her 11th birthday today!!! I'm not sure if you remember her or not

cause its been so long but wanted to share some pictures of her. I can't believe she's 11 years old! She's been such a great blessing to us.

Yes! Absolutely you can share he photos. She's been extremely healthy all this time! Never have any issues with her heath, even my vet is surprised she's never had regular bullie issues. She's amazing.

My son Andrew and her have a special bond. Shes his dog, he takes her hunting with him and fishing. Of course she stays inside a warm or cold room but she loves going up north a d riding in the fishing boat💜

I always think of you especially on her birthday, so thought you would love to see her. Glad it made your day!!! Here's a couple more pics. Its hard not to send all the pictures I have lol..shes so adorable

December 2018
Hello!

We just wanted to give you an update on Kash!! He is coming up on his first birthday and is doing amazing!! He is now 55 pounds and absolutely

perfect!! We love him so much!! Thanks again for giving us an amazing experience!!

NOVEMBER 2018
I wanted to give you an update on "Gwen", now our little Remi girl.

She had her first vet appointment today and everything came back glowing.

She's healthy, happy and growing so fast!




I also wanted to thank you, she has been such a blessing to our family. She

definitely keeps us on our toes with that huge

personality but I wouldn't have it any other way.

When she's not snuggled up with us, shes going crazy with her toys or hanging out with her new

kitty brother and sister (who are totally in love with her).

She's been doing such a great job potty training too. I may be biased

but I think she's a puppy genius.

Again, thank you for bringing this bundle of joy into our lives. We're the proudest puppy parents around. :)

-Nathan and Chelsea

NOV 2018





Thank you so much for flash. He is my best friend and has mad my life very fun. He is doing great very healthy.




Danny and flash

2018
Hi Diana- we picked out "JJ's B Dazzled Crash Course"

We have had our hands full with the house building and family stuff. Thanks for the reminder!! He's growing like a weed and tormenting his fur siblings. Have a good week!




Kelsey

2018




"Just had to share this photo" Thanks Kelsey, Diana
Hello,




I purchased Kasey (now Sabaka) beginning of December. I just wanted to touch base with you and give you an updated picture.




She comes to work with me and everyone loves her. She has such a personality especially when she wants some attention.




She is weighing in at 30 lbs right now. The vet said she is doing real good, but that I need to start feeding her more that she is going through a growth spurt. She has a food obsession to me. She lays in front of the door with her food, everything that falls to floor she tries to get. Oh and cookies...she knows what cookies are and comes running.




I love her to death, she is always with me. I bring her to work (she waits at front door when she sees me putting on my shoes), she runs outside, 9 people come to my office to play with her, she runs around with grand kids and sleeps with me. She is definitely spoiled. Even my boss who does not like dogs likes her and lets her walk around his office too.




2018






I absolutely adore him! He has settled in seamlessly with our family and
other dog. He's definitely a cuddler ❤️
He's pretty confident too, I vacuumed the other day and he was more
curious than scared.
Jessica L
2018
Hi there Kate's new name will be "Kit Kat". She is absolutely amazing.
hank you very very much.
2018
Hey Diana, wanted to share with you how amazing Lotus is doing

2018
Good morning Diana,

Attached is Cletus' first visit report, as well as a couple of photos of him in his new home.

The pickup was incredible, and great to know about for the future. Thank you so much

for all your help and particularly in making this remarkably simple for us.

Best,

Michael, Nicole, Ezra, Miles, and Charlie

2018
| | |
| --- | --- |
| | Just wanted to say thank you for helping me find the perfect pup. Tank[Dynamo] has the perfect personality and is enjoying being spoiled rotten. He has an Instagram account if you want to follow his adventures. @tankthebamabulldog Adam C 2018 |
Good Morning:




We took Kash (Clay) to the vet yesterday per the contract to have a wellness exam. Everything looks great!! (Please see enclosed from the Vet for your records)




Also, I would just like to say, Kash is an absolutely perfect!!! He is such a wonderful addition to our family. Thank you so much for everything!!




Thank you.




Heather D

2018
I got this Christmas Card from Kayla & Belle and just had to share!

Thank you Kayla
2017
She was great on the way home I think we bonded and we got to see her personality walking her! She is so sweet and cute our kids are going to be in love! She showed no signs of stress in the travel and she gave lots of kisses! Thank you so much we love her already, can't wait for Christmas morning!

Merry Christmas!
ANGIE L
2017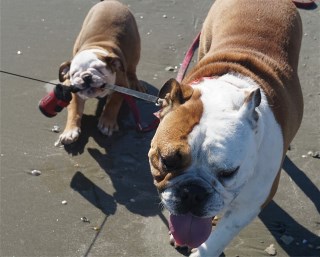 I love my new dog, thanks so much. Kristen C 2017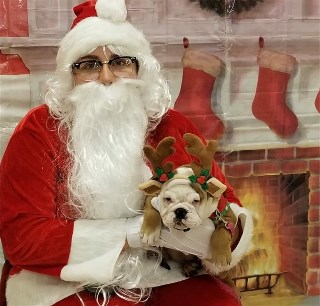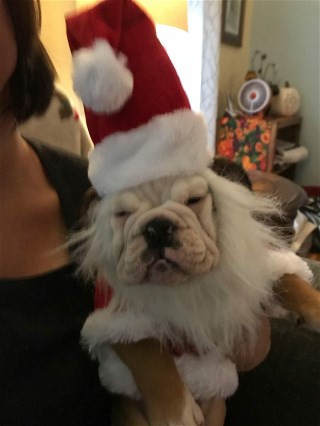 Thank you Diana and Graceland Kennels for our amazing puppy, Kate. We named her Bebe Beau Ty (baby beauty). She has only been with us for a day and a half but it took less than a second and a half to fall in love with her. Addison and Jeff C.

2017


Two days in & Belle is already filling my heart with so much love & joy! Not to mention, she's an angel! Her first night home, she slept 6 hours in her crate before she woke up to go outside--proud mommy moment! We just left her first vet appointment & the vet's exact words were "Wow, this is one healthy bulldog!"

I'm so thankful that Diana made the process of getting my first puppy so easy. She answered all my questions/concerns when I picked her up & helped me understand everything.

Thank you for a happy, healthy puppy, Diana!

K Krumrey
NOV 2017


Today I received my puppy and I am absolutely in love with him. He is very happy, active, and healthy. The process with Diana was flawless and she answered all my questions and concerns promptly and professionally. I will definitely purchase another family member from her in the future. Attached is a picture of Bowser Montgomery
2017
Hi Diana,

Hope all is going well with you. Just wanted to send you an updated photo of Mr. Hank. He's is doing so well and we love him to pieces! Enjoy the photo.

Best Regards,

Eric & Melissa H
2017



Hi Diana,




Landon, (Shadow), is doing great! He is full of spunk and spirit and more vocal then even our dachshund! He is doing his best to roll over on all of the flowers lol.




Our new puppy is feisty and fun. He plays full throttle until he can't go anymore then he collapses out cold lol. He definitely knows no fear.




Thanks so much!




Jerry & Juli

2017
Hello Diana!

We cannot thank you enough for bringing Gemma + Axel's little pups into this world!

Gwynnie, now 2...and Mack, at 7 months--are like Bonnie & Clyde....with good hearts.

Our lives have been changed forever, since adopting them into our family.

Having them is hard work, and we love every second of it.

Not only do they bring us joy--but they also bring such happiness to others.

Many folks can't wait to pet them, and their smiles make the pups so happy!

We feel so fortunate, and love them so much. They are extraordinary Bulldogs.

XOXO!!

Much love to you and yours,

Gwynnie, Mack, Chad, & Dana




6/2016






Hi Diana!

Just wanted to email and say that Hudson (formally Hank) is a total joy to have. He's a sweetie pie! Since he's still to young to walk around the city on the ground I bring him around in a puppy tote (can't wait until August when he gets his 3rd round of shots, he's getting heavy to carry haha).

People have actually stopped me to takes pictures of him! Everyone coo over what a beautiful puppy he is. Vet also said form looking at paperwork that you're a very through breeder and he's in great shape. He's 8 1/2 lbs now and understands a good handful of commands. Just want to say thanks again, I'm in love with my little mini aussie pup. :)


Cheers!
Kristin C (San Francisco)
2015






Just wanted to say thanks, and send a recent picture. Daisy is the perfect pup for my little family. She is a petite little princess and we love her!!!! Thanks!
Erin, Morgan and Toby

2015



Good Evening Diana!

Just wanted to send you a few updated pictures of my Marshall and Lily (Jay and Midget). They are having a lazy Saturday night watching How I Met Your Mother with their Mommy on the couch! 


2015




Hi Diana

It's been a fast year and we need to report in... Gracie is doing great. She is just looking at the presents it this picture. Sue made the mistake of putting Gracie's name on the bag. Now she knows which one is hers. She is very good at opening them... Hope you have A Merry Christmas and A Happy, Happy, Happy New Year. Later Harv , Sue and Gracie

2015




Merry Christmas from Gunther (formally known as Grover) and his doggie Aunt, Fiona. I fit into my family like a perfect puzzle piece and I love giving kisses. I'm still playful and love chasing Fiona around! 

2015





Here's brandy at 42 pounds we really love her she is spoiled
From Kenny

2015
Diana,

Hope all is well with you and your family. All the pups look so cute. Our little guy couldn't be any sweeter. He tries to run our other dog, Digger. When he is really naughty I tell him to go to his crate----and surprise surprise, he does. That is his time out.

Here is another pick of Rocco de PooPoo (formerly Kory).




Stay warm,

Jill

2015



Hi Diana I just wanted to give you an update on Ally. We changed ally's name to Abby and she's fitting in wonderfully. Her and my male get along great! She's also my two year old nephews new best friend. We took her to the vet and her lungs are all clear and she sounds healthy. I can't thank you enough for her, she is absolutely perfect!

Tabitha

2015



Good Morning Diana!

Marshall and Lily have adjusted very well to their new home.  Within
hours of being their they were playing, exploring, eating, and
drinking!  Lily already mastered how to use the stairs to get onto my
bed!

Yesterday morning they went to see the vet.  She said everything was
great with both of them.  I have attached their exam paperwork for
your records.  If you need anything else from me please let me know!

I have also sent along a few pictures of them : )

- Jess

10/12/14



Hi Diana.....We wanted you to see a picture of the birthday girl !Today is her 1st birthday !!! She is such a good girl – we love her! She is so full of energy and is so smart and also the most lovable and snuggly little girl. We may be a little prejudiced, but we think she's perfect!!! Hope everything is going good with you – we keep looking at your website for more pictures of Bulldog puppies. Take care, Harvey & Sue & Gracie
08/22/2014
Hi

I thought you might like a update on Tighter. You and your granddaughter came to Minnesota and we met. Tighter is 18 months old now and weighed in at 2 pounds 14 ounces..I gave him a summer cut and took off 14 inches of hair LOL..He has the best temperament in the world I couldn't have asked for a sweeter baby. He gets along with my old male even when the girls go into heat. He has the most calm demeanor ever..Thank you again so much...I still love the bulldogs but they are out of my price range LOL..

Sharon B

8/21/14






Hi Diana, it's Kariymah, she is doing absolutely wonderful.
I changed her name to Duchess due to her looking like royalty.
I think it fits her well. You have always had the best
puppies in the world. We will keep in touch. Thank you for my new baby. I just love her to death.

April 2014








Moose and Rocky

Thank you Linda for all the photos

March 2014






Hi Diana,

Just want to check in with you and show you how much Lesnar has grown in the last 3 months. He is very smart and lovable. Loves water and snow! Going on 5 months and he is bulking up and looking tough! He is a beautiful dog. We love him so much! Thank you again!

Tanner and Mickey S

March 2014



Diana,

We just wanted to follow up with you on Bentley or as you may remember Hess. She is such a smart dog and so beautiful! Everywhere we go she gets non stop attention from strangers. She is so gentle when she meets new people. She will be starting Canine Good Citizen class in April and we are hoping she passes!! We also can't thank you enough for all of your assistance through the first few weeks. Without you, we could not have done it!! I've attached some pics below.

Thanks,

Rich and Jamie A


2/2/14



Hi Diana. Just a little note on Zoey. She is absolutely the sweetest puppy. She has adjusted to our family with flying colors. We just adore her. She's already very spoiled and I have to say potty training has been amazing, we've never had a puppy come to us already trained. If you ever need any references please, please send them to me.  I have nothing but good things to say about Diana and Graceland Kennel. Thank you for this little precious blessing.  We love her as if she was one of our own babies. 

Michael & Dawnyell H


JAN/2014




We would once again like to thank you for the boys we brought home in November!! They are exactly what we were missing in our family, and we couldn't be happier!! Our youngest female mastiff has taken over a big sister roll with them, they all still fit in our biggest kennel together for naps!! They love the snow, Remmy has a thing for sleds as well as a skateboard. We took them to Michigan with us for Christmas, where it snowed every day and they loved it!! They are happy, healthy little bullyboys!!




Thanks again,

Allen, Marcie, Ben, and Robbie

Dually, Dusty, Lucy, Goldie, Holly, Fudge, Bruce, Sassy, Torque, and Remmy

Jan 2014





I just wanted you to know how much I appreciate you going the extra mile
to make sure that my son's Christmas was perfect, and providing us with
such a wonderful new family member.  We now wonder how we ever survived
without her, and you have been right there guiding us as she makes her
adjustments to her new home.  But, even better than your customer
service, is what a wonderful little Morkie you brought us.  When the vet
says things to me like "you picked out a good one... I see none of the
health problems I've seen frequently with this breed... [and] you're
doing everything right" it means that you, Diana, did everything right. 
She is just wonderful, so cute and playful, and the potty training has
gone so well you'd find it hard to believe.  She has brought nothing but
joy to my family.

I've enclosed a couple of pictures as well.  Thank you again.

Charles P of MO

1/2014








Hi Diana, Just a quick note to let you know Glory/Ellie has arrived safe to our home. She is even more precious then we expected. She is doing well and I will have David give you an update on her soon. He is working late and my daughter Jordan and I are having so much fun with her. Thanks for everything. Happy Holidays ! Kim (David's Mom)


DEC 2013



Hi Diana

Merry Christmas... Gracie is growing like a weed. She is in her second week of puppy school at Petco in Branson. The teacher said she was the best puppy in the class. To be truthful she was the only one in the class. This week we hope have some classmates. This in an old picture, but she looks so cute. Hope you have a Merry Christmas and a Happy New Year!

Harvey & Sue L & Gracie

DEC 2013



FENDER AND RUSTY IN THEIR NEW HOME

THANK YOU

DEC 2013



Hey Diana,
Emma aka Gemini is doing great and getting comfy as you can see. We just love her so much! She's so well behaved and sweet as pie. She's cuddling with her toy here and snoring lol she makes us laugh daily. Thank you Diana she's such a great dog.
Have a good day,
Alexis and Aaron
Dec 2013
Hi Diana

We made it home. She is one mean looking DOG. Gracie is doing very well. She is eating, sleeping, pooping and being cute. Thanks for all your help.... This is going to be fun.

Thanks...

Harvey & Sue L

10/17/13
Here is my review for scout. He is such a wonderful puppy. I love him to death. We are having some remodeling done in the house and this morning I woke up to hear scout freaking out and then I hear a crash. It was a tile in the ceiling. It seems he knew what was going on before it happened. Very good boy. I am thankful that he warned me that something was going on. Thank you so much for giving me my new guardian angel.

9/27/2013



Best ever!

We bought our little Chewy aka Max from Diana in December 2012. He is a little chocolate yorkie and he is the sweetest and best behaved little boy! Her dogs have the best personalities. Thanks again Diana!!
Diana,




I got Muggs from you about 1 1/2 years ago & I wanted to reach out to you again to let you know what a gift he has been in my life. His name is Hunk John now & he lives up to his name because he sure is a HUNK!!! He has a wonderful disposition, has a beautiful face, great coat, and is healthy! I tell people all over Tampa about your services & I hope that you guys are able to continue what you're doing because my dog is one of the best looking Puggles I've seen!!! Thanks again for bringing him into this world and making it so easy for me to purchase him from you. I look forward to adding to the family some day & you'll be my first place to visit!




Sincerely,




Stephanie H

(aka Hunk's mom)

9/23/13



Hi I just wanted to let you know she is great I just love her to death even though she peed on my bed the first night since she wouldn't go out side and she did last night right before I went to bed but that's ok I have extra comforters then she slept on my pillow the whole night after that she is just the sweetest puppy if I ever want to get another one I sure will call you thank you so much she is great. and I left you a review on puppy find thank you for sasha

09/16/2013




great puppy

the best yorkie I just bought a little chocolate and tan female yorkie named sasha from Diana , You could not ask for a better puppy she is just the sweetest puppy and just beautiful she is very playful and acts like she has been at my house her whole life she just fit perfectly I cant thank you enough Diana for sasha

Reviewer: PAM, September 13, 2013 [
Hello, my name is Lyndon R, a little over a year ago, my wife (Sonja) and daughter (Nikki), made the trip to get a Morkie puppy from you. I just wanted to give you an update on him.
When I got home from work that evening, I was greeted by the sweetest little guy, my wife introduced me to Hawk, but to tell you the truth, he just didn't look like a "Hawk" to me. I called him that for a little while that evening though. I told Sonja that he really got along well with our other 2 dogs, she told me that they played really good for a while, till the other 2 decided that they wanted to get rough with him, then he let them know in no uncertain terms that he wasn't going to allow that. I said " Oh, so he's a little tough guy, huh?" She said "Oh yeah". Then it hit me, the perfect name for him.
Now, I've gotta tell you, I'm a huge classic movie freak, and I told her "Ok, I've got a name for him, follow me on this. He's a Maltese Yorkie, and a little tough guy, one of my favorite movies is The Maltese Falcon, with one of my favorite actors, who just happened to be a little tough guy too, I introduce you to........ Bogie"!
So let me tell you about Bogie, first off, I honestly don't think they could've found a more perfect little buddy for me anywhere!!! He has the best personality, and is truly loved. When I get home from work, he's the first to greet me at the door, and is by my side from then on. When I'm doing anything here at home, he's right there with me, whether I'm grilling outside, or building something in my workshop, he's there. And he loves to go for a ride too, if he sees my car keys in my hand, he's ready to go. He's even tried to go to work with me a few times. I'll be going out the door, and not see him slip out, only to find him at the car, wagging his tail as if he saying" C'mon Dad, let's go "! And in the car, it must be a Morkie thing, because Sonja's Morkie does the same thing, when we get into out seats, they run up our arm, and settle down between our necks, and the headrest. And, we didn't teach them that, they just do it.
Oh, and my parents, (my dad is 80, and mom is 78) absolutely adore him! My folks have NEVER allowed a dog in the house.......well, until Bogie that is. He will climb up into my dads lap, and just curl up. They will let him sit in their laps.....at the table, and feed him food from their plates!!! What, my dad had NEVER fed my brother or me, or any of the Grandkids from his plate. It completely blows our kids, and our nieces minds to see that.
Anyway, I just wanted to tell you that all that you do to get your puppies ready to go to be with their new families, is working. I am very impressed, and HAPPY with my little buddy, and again to let you know how much we love him,
Sincerely
Lyndon R
Sent from my iPad

9/18/2013
He feels right at home!

9/18/2013
Hi
Well Tighter is 6 months old now and barely 3#'s he is charting to be 3.5. He is spoiled rotten but a very good boy. Smart little man. He loves being held and doesn't mind me grooming him all the time. He has an unbelievable temperament and is not a barker ( which is amazing here since some of the dogs here bark). Thought you might like to see him so I am adding a couple of pictures




Sharon B

9/2013




Diana goes out of her way to help you with your choice of puppies. I recieved my puppy today he is healthy and alert just as she promised very tiny. When we met she had a little Bulldog baby with her he/she was also super healthy and out going..Both puppies had wagging tail and lots of kisses.All paper work in order, all vet work done.She did everything said she was going to. I will buy from her again if I need another puppy.Safe person to buy from on-line. Tighter just got here and has taken over the place, very outgoing!

6/2013
Hi Diana,

Hope you are good. Well in 4 wks time Rocco has put on 2 lbs. He now weighs 6 pounds. (We think he's an afghan hound in disguise.) He just received his rabies shot and cried so loud. We are starting him on chewable heart worm each month, just like Digger. Doc says he is very laid back.

He is a sleepyhead, when it is time to get up he is so slow. It takes him about ten minutes to get going, then watch out. Here are some more pics.

Jill

May 2013
Hi Diana!




We received Hawk (now Diesel) in February and cannot thank you enough for what has been the best addition to our family! He is only 4 months now and is already "potty trained", he has just the best personality and loves everything from people to all animals alike. We could not have asked for a better puppy! He even helped his daddy propose! (I don't know if you can see the ring on his collar in one of the attached pictures :) ) He is so loved by everyone in our family and we just wanted you to know what a great home and family he has. He has so much energy and loves to play but when its cuddle time he just melts into your arms, absolutely the best puppy! Thank you again for giving us such an amazing puppy and truly brightening all of our days!




Will check in soon!

Taylor, Kyle, and Diesel

APRIL 2013
let you know how well our dog was doing and how much we love her and her some picturesand also to let you know I sent a lot of people to your website thank you

4/3/13









Diana,
Rally is getting so big. She is now potty trained and knows how to sit on command and speak on command. You were right she is such a sweet puppy. She loves the kids and wines at their bedroom doors when the kids are at school. Also Rally starts puppy classes Saturday, we cannot wait. Just wanted to give you a update and she weights a whole 19.5 lbs. love her thank you so much for our new family member

Hi Diana,

Hope your doing well! Just wanted to write to you and tell you how well Chewy (aka Max) is doing. He is just over 7 months old now. We recently had his hair cut and his ears stand up half the time. He is such a wonderful little furball of love! We are soo in love with him. Thank you for breeding us such a well mannered and loveable furbaby!



Hey Diana,



Here's a photo of Knox! He's the best little guy & I couldn't possibly lobe him anymore than I already do! I can't wait to get another one from you! ;-)

Kegan

2/27/13

It's been a couple of days now since we have had Rally. We have decided to keep that her name. She is very loving and a ball of energy but she does love her maps in her bed. Also just hot back from the vet and everything came back good. A great bill of health. Thanks so much and I will be sure to send you pictures as she grows. Here are a couple now.

Jessica

2/18/13
Abby

Jessica and Jon's new baby!

2/12/2013
DIEZEL!

2/12/13
hey diana here is a couple pictures of dozer (randy) for you, he is such a good puppy!!!!!!!! we love him so much and are already talking about getting another one. so you may be seeing us again soon thank you so much for our newest family member.

Crystal

2/9/13
Hey ladies,

A couple months have gone by, and I just wanted to let you know how much we enjoy our newest addition to our family. We purchased Jackson, now Angus, and live in MI. Angus is so full of love and spunk, but sure loves his naps. And begs for our food(which we don't give him) and ice cubes every single time we are in the kitchen. He is also very smart, having learned how to come, sit, shake, no, lay down, and heel. Angus is even starting to listen to and take commands from our 5 year old daughter. They'll definitely be best friends for a long time to come. He is currently losing his teeth, and continues to love chomping on us and his toys. Angus just had his most recent vet visit, and weighed in at 26 lbs!! We think he is going to be a big boy!! Haha!! Well, we just want to say thank you for sending him to us, cuz we love him sooo much!! Here's some pictures to show you how much he's grown.

1/30/13

MeMe's 4 mo old picture. She is so precious. Barks very little. Potty training is pretty good. She goes back for her final shot on 01/24/13. Her and Kobie have become such good buddies. Kobie just lies down and lets her walk all over him. She has not grown a great deal, I believe she will be pretty small. I love her so much. Thank You Diana for our sweet little girl.

1/16/13
She is doing very well. Adjusting to her new home and learning where to go potty. We absolutely love her. Thanks again


Reta

12/18/2012
MERRY CHRISTMAS FROM MISTY

I REALLY LIKE MY NEW HOME, DAD

AND MOM REALLY LOVES ME. I HOPE

YOU HAVE A MERRY CHRISTMAS AND A HAPPY

NEW YEAR

MISTY

CLIFF & SHIRLEY

DEC 2012
Thank you Diana for our little boy. He has been an amazing blessing.

Janes & David

12/2012
Diana,

I know this is a bit late but things got away from me the week. Bubba is doing great and I cannot tell you how happy I am that he is now a part of our family. He got his vet check up and was the picture of health. He and my two boys (5 and 3.5) absolutely love each other.

Thank you again for such a wonderful Bulldog,

David

12/9/12


Here is a picture of Molly. [that's what we named her] As soon as we got home Sugar and her became instant friends.Just recently Sugar was teaching her to play tug-o-war. We are so happy to have Molly, and love spoiling her. Just wanted to say thanks again.

Kyle and Vicky

12/4/12
LOVE HIM!

Joanne

11/30/12
Diana, some pictures of Stella aka Gretel she is adjusting really well. Jamie

12/2/12
Hello Diane,
This is Alan K who purchased Justin from you about 7-8 months ago. Everything is going great...the dog is absolutely great and in great health. He is very well-behaved. My neighbors adore seeing him on walks. Everyone here who has a dog (and even those who don't) are shocked that i can walk him without a leash. Several people complained to the apartment office but i put an end to that very quickly by walking into the main office with him without a leash. I took a gamble and walked around the office, which absolutely terrified them until they realized he stays by my side no matter what...they even put a bagel down but he wouldn't budge more than a foot...looked up at me and whined as if to say "c'mon dad that looks delicious! lemme have it!"

I am planning on writing a much longer review/reply/testimonial coming up around Xmas or his first bday(feb11). So wait before you put anything up on the webpage. Ill write a longer and better one.

He is in great health. This pic was taken this morning right before our early morning walk. On a full stomach he tops out at 55lbs! I had to tell you that before i tell you this...he is an amazing jumper. This same couch my friend was sitting on and playing with Buddha over the back end. He was teasing him with one of his toys. As he was holding it quite far out of the dogs reach, from a sitting position, Buddha launched himself over the back end of the 2.25 ft edge. We were all simply amazed. Note: we certainly don't play like that to make sure his joints stay healthy for a long time but it was amazing to see him do that without a running start.

Thank you.
Alan K

of NY

12/1/2012
Hi Diana! This is Hollie B, my husband Johnny B met you to buy Merlin, Aka Louie, from you. We took him to the vet the weekend we bought him. He weighed in at a whopping 3.2lbs! The vet said he was absolutely wonderful and healthy as can be! He will go back for his last round of shots on 11/10. (which I still need to send that form to you that the vet signed.)

I was a little nervous at first, as to how my German Shepherds would be with him….as you can see, my youngest German Shepherd, Sarge, and Louie are best friends. We purchased a bell to potty train him, and this weekend was a little over 2 weeks of working with him, and I will have you know HE rings that bell EVERY TIME he needs to go out! AND we have already taught him how to sit. He is so cute, and smart. He has fit into our family perfectly! He loves his cuddle time, and LOVES waking up my children every morning! He knows when the alarm clock goes off, he gets to wake them up. He is wonderful, thank you again. I will keep in touch, and send pictures periodically.

HOLLIE B

KANSAS CITY, MO

10/31/12
Hello Diana, This is Karen, Jordan's new mommy, I just wanted to tell you how happy he is and how happy me and the kids are with him.

Karen and Family

10/18/12
Roxy had her check up today and all is well she got her rabies vacine and her dewormer and a Lepto vaccine as well as her micro chip. They didn't find any issues other than what we already knew (inverted vulva) and even said that is very clean and well taken care of, and she had some round worms which the dewormer will take care of. The vet said she is very close to if not the healthiest puppy she has seen in a very long time. Thank you so very much for her she is such a sweet heart. She is doing very well she has learned Sit and is making progress with Stay and she has already learned her name. She goes almost everywhere with us and everyone loves her. We went to look at new cars yesterday and took her and I gave your website to 4 people while we were there because they had to know where we got her. She has such a sweet loving temperment. She's done well even around some of the bigger dogs that live around us and is very good with children. She truly is the perfect pet. I'll be sure to send pictures as she grows.

Thank you so much again

Phil and Patsy

Dont ask why but she loves to fall asleep on your feet I think its so she knows if you get up. She is a ball of fun and laughter Thank you

10/9/12
Diana - Our daughter received "Huck" for her birthday and is completely overjoyed!! Huck is doing great and has really taken to both of our children. We are thrilled to have him join our family!




Thanks again!

Scott & Jamie W.

9/18/12

Diane,

Hello. We wanted to send some pictures of "Remington", who we bought back at the end of July. We named him Zeus. He is fitting in just great here! He is very playful, although we're working on his biting habit :-) He is growing fast and has many fans around the neighborhood already. There is a picture of him "kissing" his big brother. We will continue to send updates on him as he grows!

Thanks again,

Stephanie and Drew B.

9/3/12
Our spoiled rotten girl:)

Becky

9/8/12
Hi Diana!

Also, wanted to let you know that he is doing great. He's such a lover and so very sweet. He and Coach, our English bulldog, are trying to get to know and get used to each other. It's a good thing that he is feisty because Coach really tries to dominate him and Wicket doesn't put up with it. They are started to have a little more of a "mutual respect" for one another. As far as his eating goes, he's doing ok as long as you put it down for him. He doesn't like eating it out of the bowl. Although, he always wants to eat Coach's food (don't worry, we don't let him J). Any advice?

Hope you are doing well. Thanks again for giving us such a wonderful puppy, we love him!

Beth E

August 2012
Haven't updated you lately so wanted to send you a picture I took of Kyra yesterday. She has turned into such a beauty and such a well mannered little girl. I think she looks a lot like her mama. She is still at 2.8 at 8 months old and has been for about 3 months so looks like she is going to stay a tiny girl but she is in great health.

CHARLEN A

August 2012
Good morning,

Well we finally made it home late last night. We ended up staying in Wichita falls and letting the kids just swim all night to get all of us out of the car. Rachel is now Harley Grace of the Ozarks. After spending just two days with her none of the prepicked out names suited her. She is a spit fire little girl. She loves to bark and nip at anything that moves. She was greeted last night by an endless parade of visitors and received a ton of gifts.We stopped at a PetCo and she now has her training crate, harness and a ton of outfits. I went ahead and ordered her food online and that will give me some breathing time to see if anyone here in San Angelo will carry it. She definitely loves the yogurt mixed in, needless to say she is a little piggy. We tried her in the crate last night and to everyones dismay she cried, i tried explaining that she would for awhile and maybe a few nights but she would be fine. It went on for about ten minutes and Daddy got up moved to the couch and took her with him, He swore he was going to put her to sleep and then leave her in the crate but the couch snoring together is where I found them this morning. ( He said," she woke up everytime I tried to put her down. ") I will take tons of pictures and keep in touch. I work rest of this week but I've scheduled her appt with the vet ( I got his name recommended from a Bulldog rescue that works out of the Dallas area and they said he is the only one they deal with in town and that he has experience with the breed ) so I will send the paperwork as soon as we see him. Thanks again I can not express how beautiful she is and lucky I feel to have her. And I am sure I will have tons of questions, I feel like a new mom all over again.

Sincerely,

Sara S

July 2012
Hi Diane!




Thank you so much for Hero who is now Teddy! I fell in love with him immediately and he's been great. I was shocked at how easily he adjusted here. He hasn't had any issues at all and is a really playful puppy! We love him to pieces so thank you again! I've been trying to recruit people to take his brothers :)




I have attached the copy of the vet bill. We took him yesterday and all looks OK. I'm taking him back for his next shot in a couple weeks. Hope all is well on your end!

Kristen M

July 2012
thank you again for cash...he is getting soooo big (he's just a solid ball of muscle) and is as strong as an ox. he has even made friends with the cat...they play together like they've been best friends forever. he loves to chase the ball around and can't seem to get enough "play time"...he thinks he's tough but knows not to be too tough :) cash was my birthday gift, and by far the best gift ever...thanks again




alicia :)

6/28/12

Hi its Chrystal again. Juan and I just wanted to say hello and let you know Chance is doing wonderful! He just had his first haircut today and he did great! We love him so much! He is a perfect fit in our family! Here are some photos of him. Thanks again!

Chrystal and Juan V

06/21/2012

Hi Diana,

This is Chrystal. My husband Juan bought Chance from you on Friday. Here is his papers from the vet. Sorry we didnt get it to you sooner today was the earliest we could get and appointment. I want to say thanks again for Chance. He is great! We love him and are enjoying him. He is very playful and has lots of personality. He has helped ease the loss of Spike. He is fitting in just fine. I will send pictures soon. Please let me know if it came through.

Chrystal and Juan V

06/06/2012

Diana,

I hope all is well. I just wanted to say thank you for letting us have our sweet puppy"Tuta', formally known "Lolly". She is a sweetheart, and we love her so much. She has became a very important part of our family, and brought a lot of joy to our lives. Thanks again!

Nora L

06/19/2012
Hi Diana-

I just wanted to give you a quick update on Mack (aka Phoenix). Mack has grown quite a bit! He has put on 10lbs since I got him from you at the end of April! He is definitely my buddy, and I love him more than anything. He is attached at the hip to our boxer and they cannot go anywhere without each other! He has definitely taken over our household and has us wrapped around his paw! Just wanted to say thank you again, and I thought you might be interested to see how he's doing :) I attached some pictures!

Thanks,

-Marissa and Dusty F.

6/18/12
He is definitely one good looking dog! I get so many compliments on him and so many people are shocked that he's (mostly) all white. He has the best personality as well. I can't put into words how much I love him, he's definitely my (spoiled) baby! I'll definitely keep you updated on him. And of course you can post my comment and picture on your website!

Marissa F

6/18/2012
Hi Diana,

I purchased Ruby from you in February 2012. I just wanted to let you know that she is doing great! She's an awesome, healthy puppy, and we all love her. Ruby is really attached to my 4 yr old son, and it's so fun to watch them outside playing together. She doesn't let him out of her sight for one second.

Thank you so much for such a great addition to our family, we wouldn't change her for anything.

S Rosenberry

6/18/12
"I Love Him"

S Davis

6/10/12
Hi Diana,

Here's Max….he has truly gave me and Robin a lot of laughs and joy. I believe you have some great pups. Don

4/29/12
This is Gunner with daddy & watching tv with grandma. He just turned 6 months old. I can not believe how big he is getting. He weighs 26lbs about now. He knows how to sit, stay, lay down and is working on dancing in circles. He scared himself when he started barking. He is fitting in great with our family. He went to work with Daddy yesterday and didn't want to leave. Loves all the attention he gets from everyone. Thank you so much for "Rock".

Janis & David W

5/2/12
Diana,

Just wanted to let you know that Marley checked out perfectly at the vet. I will send you a copy of that on Monday. She has slept a lot today but gets along great with her big brother! She has quite the personality we have been laughing all day! She is a wonderful addition to our family and we are very grateful! You are going to be highly recommended by us!!!! Thank you for taking such great care of her and all the dogs you raise! It was a pleasure doing business with you and we sincerely appreciate the honesty, and helpfulness you have provided us with.




Thank you,

Samantha & Wyatt D

5/5/12

Hi! I wanted to write you and let you know how our baby girl Lola is doing. We had a 1 year old male bully who needed a sister an your kennel came recommended by our previous breeder. I fell in love with a (Annie) now named Lola. She was the tiniest thing only 6.4 lbs when we got her, she is now 4 1/4 months old and is 23 lbs! She's growing like a weed, she was quite the fire cracker at first much different than our laid back boy Angus. But she learns fast and they LOVE each other. She's absolutely the cutest thing and wiggles her butt all the time when you talk to her. We get so many compliments on her coloring! Thanks for her now we can't imagine life before!
Sincerely, Nichole & Josh Martin

April 17, 2012
Diana,

Good morning. I just wanted to send you an email and thank you for taking the time out of your day to show us around and let us see Marley. She is everything and more than we hoped for! You have such beautiful dogs and we are very fortunate to be getting her from such a wonderful place.

I will be calling in the middle of next week with another payment on her. Give her love from us and we will be in touch soon.

Thank you,

Samantha & Wyatt

4/9/12
He is doing very well! Happy & energetic! He already weighs 14.6 lbs. We all adore our new family member. We get many compliments on him his brindle coat and black mask are beautiful.

Andrew and Eliabeth M

April 7, 2012
"Our beautiful girl Cleo!"

Becky B

of Manhattan, KS

3/30/12
Hi Diana,
Just wanted to let you know we received Kyra's papers and to thank you again for bringing this little bundle of joy into our lives. I attached a couple more pictures of her in her first dress lol. It is a little big and she wasn't real sure about it but I think she looks adorable as always. Thanks again, Charlene

2/27/2012
Sandy S of Wentzville, MO

"Bandit"

3/6/2012
We just wanted to say how happy we are with Amber she is so perfect,She is just what our family needed to be complete,

She already knows what bye bye means's,and follows us where ever we go,She has many toy's but her faves are her rag soft rope,

her squeaky bone and of all thing's her most favorite is a dish cloth with a knot tied in it...When we first got her off the plane and I saw

her I could not believe it,the pictures did not do her justice she was the most adorable thing we have ever saw,Thank you so much

for being such a great person and working with us on all of our questions,And thank you for our sweet Amber..

Thanks.David, Jessica & Amber Sparks

2/15/2012
Hello Diana,

We just wanted to thank you again for Ariel. She is so sweet and such an incredible girl. She only goes potty outside, she is so loving, and sleeps like a little baby next to our bed all night long (snoring away of course!) :) she doesn't bark... She's just amazing. We love her so much! We are sad we didn't get a little one from you! Hope to keep in touch. Thanks so much!!

Erin K of Las Vegas, NV

2/8/2012
"CLYDE"

He's our world, we could not be happier.. He's an important member of our family.


He's very set in his ways. Loves to tells us it's bedtime when he's tried that is, loves doggie day care. We send him a couple times a week, that's about all he can handle. He's very social and has a huge fan club, LOL. He tends to be the life of the party, LOL

Linda & Dave T of Northbridge, MA

2012
Hi Diana,
My name is Cami L. I live in High Level, Alberta, Canada. I don't now if you remember me, but I purchased Abigail (Abby) from you in May 2010. She was from Big Jake and Rosebud. Just an update to let you know that she is doing great. Having a 2nd birthday soon and we will be breeding her with her b/f Scooter whom I purchased last year. She is an awesome girl and has been a pleasure to call my own. Attached is a pic for you to see and brag about. lol Thanks again. :)


1/31/12
Hi,
I wanted to send you some pics of randy ... Thanx alot he's been a awesome puppy.

Ashley & jr
1/12/12


Hi there!

We got scamper, a chocolate yorkie from you a few months ago. We have re-named him Chewie (think Chewbaca). He is a stubborn little guy! House training has been challenging!! But we think he is starting to get it. (we rescue basset hounds and they are easier!!) Chewie is so playful and LOVES LOVES LOVES to play fetch..all day. He even throws the ball for himself if we are busy! Here are a few pics of him.. we get so many compliments on him! Thank you,

Kristen Brown
12/17/11


Just wanted to let you know Cleo is doing awesome. She had a crazy night last night meeting all the family and a friends English Bulldog Daisy. She slept all night in her kennel never making a peep. We love her! I forwarded a video of she and Daisy sharing her water bowl. I will send more pictures soon. Thanks BB

12/19/11

Hi Diana,


This is Jay Nelson. I purchased a dog from you at the end of october named ronny. I just wanted to fill you in on how he is doing. He is happy, healthy and very energetic. I decided to name him randy. He has grown a lot from when i first got him, as he now weighs 28 pounds. He has received all of his shots and is, for the most part, pretty well behaved. Thank you once again for allowing me to purchase one of your dogs. I also included a few recent pictures of him so you can see how he looks today.


Jay Nelson
1/13/12
Here is some lovely pictures of Hunter. He's doing very well! What a happy little boy he is. He was expected to only weight at the most; 3 ˝ pounds however, he's 5.1/2 pounds. He's such a sweet little boy. I love him dearly. Thank you for letting me adopt him! He's hanging out in the cats tower!

1/3/12
Hi Diana,

How are you doing? Hope all is good your way. Just wanted to say hello and share pictures of our girls with you. This was Emie's 3rd birthday party Dec. 20th and Isabella (her best buddy). Emie shares her birthday with her papa both born on the same day. Isabella shares her birthday with her mommy Renee both born on the same day July 24th so another party coming up. We have so much fun with these kids. I will try to keep in touch better with you. Take care, Dana

4/25/11

Hi Diane,

Just wanted to let u know Tinkerbell (dawn) has been such a blessing to our family. Wanted to again say thank u and merry Christmas!

James Inlow and Kara Greer

12/13/11
Hey Diana, we have received the puppy safe and sound. He is so happy and energetic. He is napping right now, but seems to be in good spirits :) I will send pics in a couple days so you can see how happy he is!

Thanks again,
Elizabeth Logan
8/2/11
Hi Diana,

Just wanted to let you know that I got the papers today - thanks.

Flipper (Jed) is growing like crazy and developing quite the personality!! We already started puppy training classes and he knows how to sit. He is absolutely adorable! I'm attaching pictures for you to see.

Thanks again for the great puppy.

Diane Chaney

7/7/11

Hi Diana,

I just want to send you these pics of Casey. He is one years old today, We are
celebrating his birthday. Casey is doing great We love him so much. Hope everything
is well.

Kind Regards
Martin
6/26/11

Hi Diane
Here are some pics of my Booboo.
Again, thanks a billion!
Maryanne and Pedro.

4/26/11
Thanks! We named her Maggie and she is wonderful. 5 lbs and jet black fur. Here is a picture

from not too long ago. Chad
I got Ace from you in July of 08, a black pug.He has been such a joy,he has a wonderful personality.He loves the grandkids he is so full of personality and so loveable, he can almost say momma! Dawn Hawkins of MO

Hi Diana,
Bella just celebrated her first birthday and I wanted to let you know again how much I love her and how fabulous I think she is. She has the best personality and she is honestly spoiled rotten. She wants for nothing and her life is fabulous and I bet she gets 50 hugs and kisses, at least, a day. Thank you again for allowing me to have her. I know she was a favorite with your employees but please let them know again how great she is doing and please come visit if you are in the area, I would love for you to see her. Paula

I still cannot thank you enough for my puppy Caesar. (i think you guys had his name as Heath). he is such a fast learner and EVERYONE always talks about how incredibly cute and well behaved it is. He gets the most attention i think i have ever seen a dog get in my life. LOL. He loves people and loves to play with other dogs. I appreciate how you guys care for all the puppies and get them ready for new homes so that they arent afraid of most things and they are already used to being handled and stuff.

Thank you again, i love him to death. Tavia, Seattle, WA

Hi Diana, I don't know if you would remember me but we adopted a bullie from you 2 years ago. We named her Tinker Bell. I am writing you today because we had her 2 year old Birthday on December 1st so I thought I would write you and tell you how well she is doing and how much we love her. I have attached a few pictures of her so you can see her and maybe but her on your sold page. Tinker is a lovable girl, she sleeps with my kids and plays with my husband. She is the most lovable dog I have ever seen. She sometimes is not a lady when she passes gas or snores..lol..but we love her all the same and plus people and friends think its funny when she does all that. She is a momma's girl as she goes everywhere with me when I run errands or go to the store. Tinker is always giving kisses and wanting to sit in your lap..she thinks she is a lap dog..ha. She loves going camping in the Summer with us as she meets many new doggy friends. She really is the love of our life as she is super spoiled with treats and love. She had her very own doggy B-day cake Tuesday for her B-day. Hope you like the pictures, Tinker was helping decorating the Xmas tree the other day. Thank you for our beautiful gift two years ago!

Stephanie

EMIE WITH SANTA, THE HENDERSON

Just wanted to send you a pic of the boys from Christmas. They are doing well and we love them very much! Bryan wants a third pug! Hope you had a nice holiday.

Sincerely,

Kathy Henry



Diana,

Thanks so much for Mr. Jaxson! He is a wonderful little pup and has a great disposition. We are actually thinking of getting another one from you soon! He sleeps with us every night and snuggles right up to us, my kids just love him. Thanks again, sorry it took me so long to write, we have been busy bonding with our new little man!

Sue

Hi Ladies!!!!

I just wanted to let you know that we have arrived back from the airport with Brody(formerly Blackjack). Too often in business we hear from clients when things go badly, but not often enough when things go as planned. We wanted to let you know that he arrived on time, safely and ready to roll, and was exactly as described. He was freshly bathed, flea free and is a wonderfully sweet puppy. He was wagging his little tail from the minute the crate was handed to me, and could not wait to cover our faces with kisses. You hear horror stories about people who have bought puppies online-sick puppies arriving, pups not as described and worse yet, no puppy arriving at all. It was a pleasure doing business with both of you, and we can't wait to hear from you telling us you have found our little gal for us. Please feel free to use me as a reference should the need arise-

Melissa